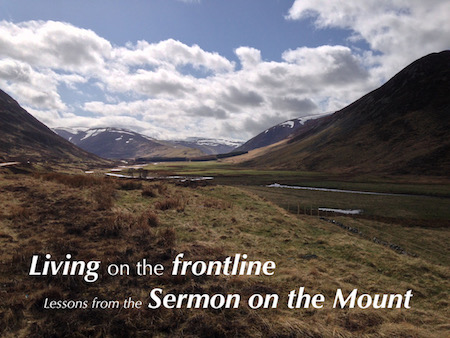 Living on the Frontline
The Sermon on the Mount contains many helpful guidelines for how a Christian is to behave and live out their daily life on the frontline. This series explores what Jesus taught and how we should live.
Here are the titles and scripture passages, along with MP3's of each sermon so that you can listen again.
---
| Date | Title | Scripture | Download |
| --- | --- | --- | --- |
| Sept 10 2017 | Introduction and background | Matthew 4:17,23 | MP3 |
| Sept 24 | A Christian's character and influence | Matthew 5:1-16 | MP3 |
| Oct 8 | A Christian's righteousness shown in behaviour | Matthew 5:17-30 | MP3 |
| Oct 15 | A Christian's righteousness shown in relationships | Matthew 5:31-48 | MP3 |
| Oct 22 | A Christian's religion | Matthew 6:1-18 | MP3 |
| Oct 29 | A Christian's ambition | Matthew 6:19-34 | MP3 |
| Nov 12 | A Christian's relationships within God's family | Matthew 7:1-20 | MP3 |
| Nov 26 | A Christian's commitment | Matthew 7:21-29 | MP3 |