What we believe
We believe that for people today, true hope and peace can come only through a personal faith in Jesus Christ.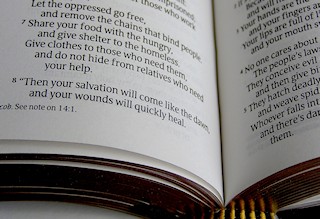 We believe that the Bible is God's word, and is therefore the authority for our faith and conduct. The Bible teaches that:
There is only one eternal God, who is Father, Son, and Holy Spirit.
God has revealed himself through Jesus Christ, his Son.
We are not able to have a close relationship with God because of our sin: the wrong things we think, say and do.
The Lord Jesus Christ lived a perfect life, died on the cross, and rose again.
Through his death, our sins can be forgiven and we can be reconciled to God.
We meet each Sunday to worship God and learn from the Bible.

We regularly celebrate communion to remember the death and resurrection of the Lord Jesus.
We follow the New Testament practice of baptising believers by immersion.


We are members of the national Evangelical Alliance.