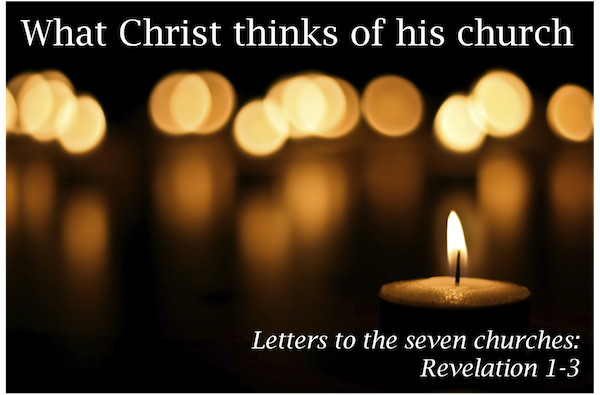 What Christ thinks of his church
The book of Revelation records for us letters to seven different churches. Each contains good and bad, praise and warnings. As we study what Christ has to say to those early churches, we must also examine ourselves to see what he may be saying to us today.
Here are the titles and scripture passages, along with MP3's of each sermon so that you can listen again.
---
| Date | Title | Scripture | Download |
| --- | --- | --- | --- |
| Apr 15 2018 | The revelation of Jesus Christ | Revelation 1:1-8 | MP3 |
| Apr 29 | John's vision of Jesus Christ | Revelation 1:9-20 | MP3 |
| May 6 | Ephesus : Rediscover your first love | Revelation 2:1-7 | MP3 |
| May 13 | Smyrna : Be faithful, even in suffering | Revelation 2:8-11 | MP3 |
| Jun 3 | Pergamum : Hold on to the truth | Revelation 2:12-17 | MP3 |
| Jun 24 | Thyatira : Live holy lives | Revelation 2:18-29 | MP3 |
| Jul 8 | Sardis : Be real in your Christian lives | Revelation 3:1-6 | MP3 |
| Jul 22 | Philadelphia : Seize the opportunity while you can | Revelation 3:7-13 | MP3 |
| Jul 29 | Laodicea : Follow Jesus wholeheartedly | Revelation 3:14-22 | MP3 |