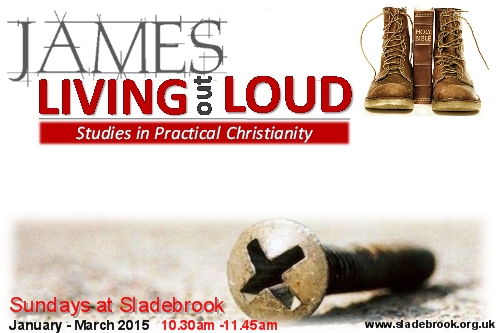 James: Living Out Loud
Studies in Practical Christianity
"Do not merely listen to the word, and so deceive yourselves. Do what it says." - James 1v 22
The book of James is often considered to be the most practical book in the Bible. Apart from the logical lessons of the Proverbs and, of course, the unavoidable challenges we find in the Sermon on the Mount that is probably true!
The aim of this series is to highlight this practical Christian teaching and the need to "Live it out Loud" personally and within our corporate context. We are to aim for all that God intends us to be; not by merely verbalising a creed, or looking back to law, but by expressing a radical, counter cultural Christ-life that defies the wisdom and ways of this world.
Here are the studies, along with MP3's of each sermon.
---
Date
Title
Listen
Read
January 11th 2015
Have we Trials and Temptations
James 1 v1-18
MP3
Sermon notes
January 18th 2015
Recognising Real Religion
James 1 v19-27
MP3
Sermon notes
January 25th 2015
Fundamental Flaws with Favouritism
James 2 v1-13
MP3
Sermon notes
February 8th 2015
Don't just sit there
James 2 v14-26
MP3
Sermon notes
February 15th 2015
War of the Words
James 3 v1-12
MP3
Sermon notes
February 22nd 2015
The Way Wisdom Works
James 3 v13-18
MP3
Sermon notes
March 8th 2015
Know your Enemy
James 4 v1-16
MP3
Sermon notes
March 15th 2015
Patience, Perseverance and Prayer
James 5 v1-20
MP3
Sermon notes