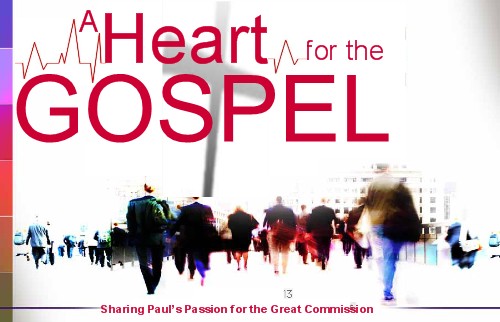 Heart for the Gospel
Sharing Paul's Passion for the Great Commission.
The Apostle Paul sought to live his whole life for Christ. His example has inspired generations of Christians to do the smae. In this series, we will focus on some of Paul's great New Testament statements which reveal his heart for the gospel. As we focus again on Christ's Great Commission to His Church, may we too rediscover a passion to share the Good New with others.
---
Date
Title
Download
January 6 2013
1 - Forging First Love: A Committed Heart
1 Corinthians 2 v 2
MP3
January 13 2013
2 - Clear on the Cross?: An Illuminated Heart
Romans 1 v 16
MP3
January 20 2013
3 - Heaven's Hotline: A Prayerful Heart
Colossians 4 v 2
MP3
February 10 2013
4 - Care to Share?: A Burdened Heart
1 Corinthians 9 v 22
MP3
February 17 2013
5 - Watching God Work: An Expectant Heart
Ephesians 3 v 20
MP3
February 24 2013
6 - Counting the Cost: A Sacrificial Heart
Romans 12 v 1
MP3
March 10 2013
7 - Grace and Grit in the Gospel: An Enduring Heart
2 Corinthians 12 v 9
MP3
March 17 2013
8 - To the Ends of the Earth: A Hungry Heart
Romans 15 v 20
MP3