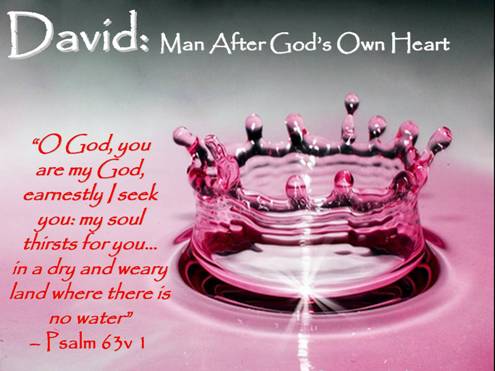 David: Man After God's Own Heart
Israel's greatest king ushered in a golden age in the nation's long and chequered history. Despite the highs and lows of David's eventful life, he truly stands out as a man with a thirst to live after God's own heart.
In this short series, we looked at the Lord's anointed, learning from his life and the relationships he made along the way. One thing, however, is clear. David's God is our God, and He is still looking for people with a thirst to live their lives after His own heart.
Here are the studies, along with MP3's of each sermon so that you can listen again.
---
Date
Title
Download
September 13
The Lord's anointed - David and Destiny
1 Samuel 16
MP3
September 20
The Giant Slayer - David and Goliath
1 Samuel 17
MP3
October 4
The Loyal Subject - David and Saul
1 Samuel 18-19
MP3
October 11
The True Friend - David and Jonathan
1 Samuel 20
MP3
October 18
The Gracious Host - David and Mephibosheth
2 Samuel 9
MP3
October 25
The Tragic Sinner - David and Bathsheba
2 Samuel 11
MP3
November 8
The Vibrant Worshipper - David and God
2 Samuel 6
MP3
November 22
The Sacrificial Servant - David and Araunah
2 Samuel 24
MP3