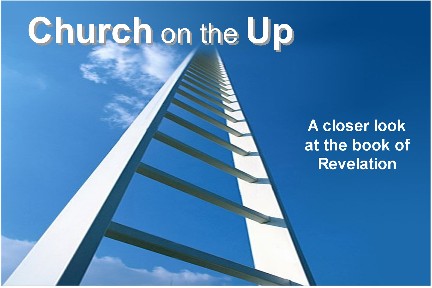 Church On The Up
What does the last book of the Bible really say, and is it relevant for today?
In this series, we attempt to unpack some of the great mysteries of John's apocalypse. Catch a glimpse of how God's plan for the whole of human history finally comes to an end. And in the meantime, see how Revelation inspires us to be a church on the up.
The series is split into several parts. In the first half of 2008 we looked at the start of the book, the introduction and the letters to the churches. Part 2 in the autumn looked through the middle portion. Part 3 in the spring/summer of 2009 covered the remainder of the book.
Here are the studies, along with MP3's of each sermon so that you can listen again.
---
Date
Title
Download
April 20 2008
Revelation 1 - Introduction
A glimpse of God
MP3,
slides
April 27 2008
Revelation 2 v1-7 - So near yet so far
The Ephesian church exposed
MP3
May 11 2008
Revelation 2 v8-11 - No pain, no gain
Suffering in the church at Smyrna
MP3
May 18 2008
Revelation 2 v12-17 - Twisted teaching
Problems in the church at Pergamum
MP3
June 8 2008
Revelation 2 v18-29 - Strange bedfellows
Trouble at Thyatira
MP3
June 15 2008
Revelation 3 v1-6 - Dirty laundry
The staining of Sardis
MP3
June 22 2008
Revelation 3 v7-13 - The key to the door
Finding faith in Philadelphia
MP3
June 29 2008
Revelation 3 v14-22 - In bad taste
The lazy Laodicean church
MP3
October 5 2008
Revelation 4 v1-11 - Through the keyhole
Heaven's Throne room
MP3
October 12 2008
Revelation 5 v1-14 - 7th Heaven
A Scroll, a Subject and a Song
MP3
October 26 2008
Revelation 6 v1-17 - Signed, sealed, delivered
The seven seals opened
MP3
November 16 2008
Revelation 7 v1-17 - Last choir standing
The song of the saved
MP3
November 23 2008
Revelation 8 v1-5 - Silence is golden
God's golden altar
MP3
April 26 2009
Revelation 8v6-11v19 - Some serious sounds
The 7 trumpets of God
MP3
May 10 2009
Revelation 12-13 - Dragon's Den
The dragon and two beasts
MP3
May 17 2009
Revelation 14 - Harvest of Hope
The eternal gospel
MP3
May 31 2009
Revelation 17-18 - An unholy alliance
Babylon the great
MP3
June 14 2009
Revelation 19 v1-10 - A match made in heaven
Wedding of the Lamb
MP3
June 21 2009
Revelation 19v11-20v15 - The final countdown
The last judgement
MP3
June 28 2009
Revelation 21 - Picture perfect
Heaven described
MP3
July 12 2009
Revelation 22 - HD Ready?
Christ is coming!
MP3