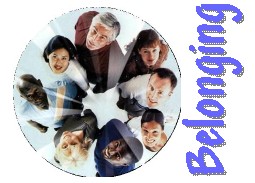 Belonging... in the Sladebrook Family
"You are a chosen people, a royal priesthood, a holy nation, a people belonging to God" - l Peter 2 v 9
God's amazing gospel gives this world hope. Because of Jesus, Christians enjoy a new identity that transforms their lives. God has chosen to love us and call us together to worship and serve Him. The church is God's delight. He has chosen us and wants to bless us. As we live our lives for Christ, God intends to show people what true community and belonging looks like.
Each week, we are looking at different areas of church life and ministry. How does church work? What does God want for it? How do I fit in? God's church is meant to be a united, dynamic community, a living message speaking into our dark and fractured world.
Here is the outline of the studies we followed. You can view the notes from each talk in the series.
---
| Date | Title | Download |
| --- | --- | --- |
| January 21 | Prayer: Exploring Gods Heart | Notes |
| January 28 | Fellowship: Experiencing Gods Family | Notes |
| February 11 | Worship: Expressing Gods Glory | Notes |
| February 18 | Evangelism: Extending Gods Kingdom | Notes |
| February 25 | Giving: Encouraging Gods Blessing | Notes |
| March 11 | Spiritual Gifts: Expecting Gods Growth | Notes |
| March 18 | Discipleship: Equipping Gods People | Notes |